Description
Dr. Jekill & Mr. Hyde for the Harley Davidson Pan America

This Bolt on Ready Kit includes Everything You Need in one Package
Includes the following Jekill & Hyde Exhaust Components
Pipes: Nomad in Black

Endcaps: Hexagon Carbon Gloss

Electronics: Modeswitch Classic X for Smartbox
Available for order: The Nomad for Harley-Davidson Pan America.
The ultimate, street legal, electronically adjustable exhaust that gives you the ultimate combination of sound, performance and comfort, pushing the super-smooth Revolution Max 1250 engine of the Pan America to the limits. With 3 sound modes, 4 year guarantee and a hard to beat price.
---
The Pan America is not only a bike that sets the bar very high for Harley-Davidson, but for Dr. Jekill & Mr. Hyde it also was clear that it should not be just any exhaust that would be developed for this motorcycle. It had to be an exhaust that would not only provide the best sound, but also perfectly match the look and feel of the Pan America.
The Nomad had to become an integral part of this adventure bike, as it were. We are very proud of the end result and are sure that the adventurous Harley-Davidson rider cannot do without this Dr. Jekill & Mr. Hyde exhaust.
The Harley-Davidson Pan America is making a more than impressive entrance into the adventure market where the bar is set very high. Dr. Jekill & Mr. Hyde is going to raise that bar. With the exhaust that changes everything.
---
Make every beat count!
Jekill & Hyde have developed an exhaust that gives you the possibility to adjust your sound to the moment and choose a different sound mode for every situation. The Nomad is adjustable, which makes it perfect for comfortable long distance touring or urban areas.

If you want to become one with your surroundings and just enjoy the scenery around you, the silent and whispering Dr. Jekill mode is your go-to option. For a more pronounced sound take it up a notch with the Dynamic Mode. If you choose the unbeaten path and take the Pan America off road or through a more rural area, it is time to unleash Mr. Hyde. The valve opens and you enjoy the deep rumble that is hidden within the Revolution Max engine. Dr. Jekill & Mr. Hyde offers you the sound that is perfectly suited for every situation.

---
Choose Your Adventure // The Sound
| | |
| --- | --- |
| Dr. Jekill Mode | Listen now Your browser does not support the audio playback. |
| Dynamic Mode | Listen now Your browser does not support the audio playback. |
| Mr. Hyde Mode | Listen now Your browser does not support the audio playback. |
Equipped with three different sound modes the exhaust boosts a beautiful, deep rumble (Mr. Hyde mode), tamed Mr. Hyde sound with a little more presence than the Dr. Jekill sound (Dynamic Mode), as well as a calm, low-key but distinctive sound (Dr. Jekill mode).
USE YOUR HEADPHONES FOR THE ULTIMATE EXPERIENCE
NOMAD SOUNDCHECK
Listen and enjoy the different sound modes of the Dr. Jekill & Mr. Hyde Nomad exhaust for Harley-Davidson Pan America.
Their sound engineers have used the character of the Pan America engine as a guideline in all sound modes. We are sincerely proud of the sound and product that Jekill & Hyde have created. The power of the engine is perfectly transmitted to the rumbling sound coming out of the Nomad. But don't take our word for it. Listen for yourself in the video below. And if it is (again) possible, experience it live at our showroom in Hendersonville, North Carolina. A Dr. Jekill & Mr. Hyde exhaust is something you have to experience in real life, in order to fully appreciate the sound and truly feel it.
---
THE DESIGN

FITS LIKE A GLOVE

Form follows function. Dr. Jekill & Mr. Hyde's motto when creating The Nomad for Pan America. But this doesn't mean they've taken it easy. On the contrary - the result is something to be proud of and fits the Pan America like a glove. They chose a design that blends in perfectly with the design of the bike as a whole.
The Nomad Exhaust is available in different configurations. You can choose between a black and pearl grey body, with gloss carbon end caps with an aluminum core. Complete the look with suspension brackets that come in black.
The indentation in the body of the exhaust matches that from the fuel tank and makes the exhaust an almost integral part of the bike. The high end carbon gives it a more sportier look and feel. The insert in the end cap gives a premium touch to the exhaust and is very recognizable from the back, even if the sidecases are mounted on the bike. A truly unique feature.
Electronically adjustable exhaust! Adjust your sound to the moment!
---
HOW DOES IT WORK?
TECHNOLOGY
The Nomad contains different electronic control units to ensure the best street legal sound and ultimate performance.
1. Modeswitch -The electronically controlled and adjustable system allows riders to open and close the exhaust valve with the push of a button mounted on the handlebar. The button is fully weather-resistant and flickers a red light when activated for your convenience.
2. Smartbox - The electronic control unit in our exhaust systems is the brain of our product. Thanks to its ability to read CAN bus signals coming from the motorcycle's ECU, the Smartbox makes sure you will not end up on the wrong side of the law no matter what mode you select. By committing the system to the parameters set by EU legislation, the Smartbox will seamlessly and subtly intervene if necessary.
3. Servomotors - By pressing the modeswitch, the Smartbox will send a signal to the servomotors. These will react and position the valve in the required mode. Thanks to a dual-cable operation the servo motors can switch back and forth between the open Mr. Hyde mode and closed Dr. Jekill mode, or engage the 50% opened Dynamic mode. The servomotors are equipped with heavy duty cables and a 100% waterproof seal to ensure strong and durable adjusters.
4. The Valve -Reacting to the servomotors our patented valve system will be positioned in the required mode, giving you the sound mode you want.
---
PACK UP AND RIDE!
FULLY COMPATIBLE WITH A SET OF CASES
To take the Harley-Davidson Pan America on an adventure you need to be prepared. A set of cases is your go-to option when you start your journey.
That is why the new Dr. Jekill & Mr. Hyde Nomad exhaust system for the Pan America is fully compatible with a set of cases on the bike.
The exhaust perfectly fits, and the heat does not affect the cases. It goes without saying that this has been extensively investigated by Jekill & Hyde engineers and test-riders. Time to pack up and ride!
Dr. Jekill & Mr. Hyde | The Exhaust offers a completely street legal, premium quality exhaust with 4 years warranty. Their exhaust system makes it possible to choose between three different sound modes on the fly, which makes every ride spectacular!
The Exhaust is a result of German engineering and Dutch craftsmanship. With state of the art technology, perfectly crafted by the best engineers in town. With computer simulations, the building of prototypes and extensive testing, They've created a tailor made exhaust for each and every bike. By riders, for riders.
---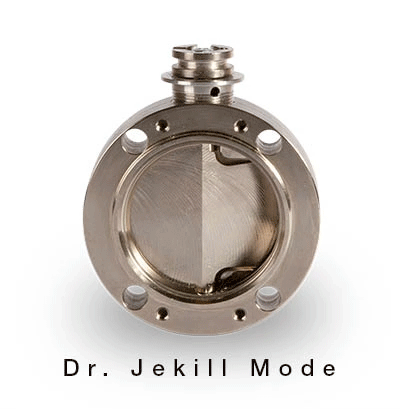 Adjust your sound to the moment with three sound modes
Dr. Jekill & Mr. Hyde systems embody three distinct personalities: the Dr. Jekill mode, the Dynamic mode and the Mr. Hyde mode. By a simple push of a button a valve inside the muffler closes, opens, or opens halfway, giving your exhaust more power and sound. This gives you all the tools to adjust your sound to the moment.
---
PREMIUM QUALITY
Many riders might only consider the appearance and sound, but the pipe quality is essential for your exhaust to continue performing at its peak. Therefore we take pride in the quality and durability of Dr. Jekill & Mr. Hyde products. All exhausts are made to last, designed and manufactured with longevity in mind. They need to withstand all kinds of extreme (weather) conditions and extreme heat. Therefore they are thoroughly tested, before going into production.
When all the tests are passed and an exhaust becomes available to the public, only the highest quality materials are used for the production which are all sourced from trusted suppliers in Europe. Absolutely no compromises have been made on quality.
Jekill and Hyde
EP-150841-NC
TESTIMONIALS
★★★★★

★★★★★
5/5 Stars out of 33 Reviews
Andrew
(Canada) | November 28th, 2023
They found a system for my bike event tho it was older and not listed on there web site anymore. Very easy to deal with
Dealer
(Power Motorcycles USA (Palm Bay, FL)) | October 13th, 2023
Accessorize your bike with an exhaust that fits all your needs. No longer do you have to wake up the neighborhood with that new exhaust or be that guy with the "sewing machine" sounding exhaust.
A very exciting exhaust product!!
Jeremiah Schiessel
(Detroit,MI) | September 20th, 2023
First off, other than the awesome fact that you can control the exhaust to be quiet or loud, the performance of my bike (Sportster S) is convincingly better. It is almost as if the exhaust has added a new mode between road mode and sport mode. Acceleration feels more sporty and responsive (similar to sport mode) but while still in road mode than with the stock exhaust. I wish I had got before and after install dyno numbers. The look is awesome!! When it arrived I was so impressed with the level of care and detail to packing this thing I felt bad removing it from the box. Installing it is easy if you have a basic mechanical aptitude. I am truly impressed and it is the crown jewell of the bike for sure.
Gabriel Godin
(Sudbury Ontario Canada) | August 30th, 2023
Very satisfied. Fast shipping 7 days door to door from Netherlands. Product as described and easy install. Jekyll mode similar to stock but Hyde rumble is sweet!
Scott
(Utah) | August 17th, 2023
Although the install wasn't difficult I needed a replacement part, they were easy to work with and sent the part quickly. The service was great!
Dubé Paul
(Montréal Canada) | August 14th, 2023
Very professionals services I recommend them all the way!
Shawn
(open road Harley-Davidson) | August 12th, 2023
very helpful over the phone
Charles Jury
(North Carolina) | August 3rd, 2023
I was very skeptical as to how the pipes would perform in each mode. They sound amazing and I saw no performance decline. If anything maybe better. I would like to share this with you. I was at the stop light and had the pipes wide open. And my son call and I was able to answer the phone select the full baffled. I was able to talk to him with no issue was able to use Sir. And when I was done. I open her right back up. Amazing product. It's worth the money. The shop was amazing and very professional. Great people to do business with.
Michel
(Ontario) | August 2nd, 2023
The equipment and the service is outstanding
Michael
(Greenville, SC) | July 28th, 2023
I went up twice to Hendersonville - 70 miles one way - to make sure, that my money spent is worth it. And the team of Dr. Jekill and Mr. Hyde did not disappoint me: I got the coolest exhaust for my Harley, professionally installed in no time while waiting. Sound, quality and finish is incomparable with any other system. No retuning was required after the installation. The bike was handed over ready to ride. Torque and performance feel just like before. With the fully open valve, I can notice more low end vibration of the bike. It simulates a wilder and more emotional ride. What a blast! I don't want to get off the bike anymore. Thank you Jekill and Hyde!
Willie
(Mexico) | July 15th, 2023
Awesome
Murray
(Chilliwack B.C. Canada) | July 6th, 2023
Excellent product and topnotch service
Aebli Fred
(Battle Creek Michigan) | June 25th, 2023
Great muffler love the performance and sound the ability to change my motorcycle sound at a touch of a button awesome
Bill
(COSMO'S INDIAN MOTORCYCL) | June 16th, 2023
EXCELLANT PRODUCT AND SUPPORT
Dennis Garcia
(Clermont, Florida) | June 15th, 2023
I heard about the J&H exhaust from my salesman at IMotorSports Indian in Orlando. When I brought my FTR 1200 in for it's first service I had the dealers technician install the all black version after I painted the header pipes flat black myself. The system looks fantastic and is an extreme eye opening surprise for all the people I show it to. I ride my bike almost daily to work and have to ride through a couple of very small towns. The ability to quiet the exhaust down entering the town keeps me sound ordinance legal and the popo don't give me a second look. But outside town I touch the button and am off and turning heads.
This exhaust is an awesome performing and sounding exhaust system. I have sold two sets to the same customer. They tune well. Our customers are satisfied.
ThunderAlley
(Paco WA) | May 23rd, 2023
Sales Rep was great! really nice exhaust!
GT Ford
(Pennsylvania) | May 20th, 2023
I used the 15 minute video to install this exhaust on my HD Pan America. The video even has a note as to what size tool you needed for that specific job. The actual job took me about 4 hours because I wanted it perfect. It sounds and looks amazing.
William
(United States) | May 10th, 2023
Just installed the J&H exhaust on my 21 HD Sporter S. This is a very well made product. The fit and finish is better than the stock exhaust and any other for that matter. Purchasing and installing was easy. Customer service was there when needed. The 3 different variations of sounds make the bike sound great. I would highly recommend J&H for your exhaust upgrade.
Willie Daniels
(North Carolina outer banks) | May 8th, 2023
I saw Jekyll and Hyde exhaust while researching exhaust for my 2021 Indian Challenger but didn't get chance to look into them more at the time. I thought they might be a good idea for me since I often ride my bike to horse rides where my wife and a lot of friends go with their living quarters trailers. I didn't want loud exhaust spooking anyone's horses. When I was at Daytona bike week in spring of 2023, I came across the Dr Jekyll and Mr Hyde exhaust trailer and listened to the bikes they had them on. They didn't have any with them to fit my bike so I ordered a set. It took awhile to get them because they had to make and ship them from overseas, but it was worth the wait! I wasn't sure how my challenger was going to sound with them but after I installed them, which went without a problem, and started it the first time, I knew they were perfect for me. The Dr Jekyll mode is actually more quiet than stock, and the Mr Hyde mode sounds great. My challenger has the sound to match it's performance now. I haven't used the dynamic mode much yet though. I want to also say everyone I have talked to with the company have been professional, polite, and ready to answer whatever questions I had. First Class crowd for sure.
Robert
(Puerto Vallarta, Mexico) | May 8th, 2023
Jeff was very prompt to answer my emails and very helpful too.
David Jensen
(Nebraska) | April 24th, 2023
Just ordered The LUX for my 2023 HD Nightster and can't wait for it to be delivered, and install it! All my questions were answered super quickly and completely. Edward was very professional, thorough, and thoughtful. Thanks again
Everett Smith
(New Market, AL) | April 24th, 2023
Excellence in customer service. Eddie took me through the ordering process and explained all the great benefits of tis extraordinary muffler. Now I can control my exhaust tone, loud as needed and quiet when I am on the highway for extended lengths. Thanks J & H team!!
Dom
(Dover NH) | April 21st, 2023
All questions were answered super quickly and completely. Edward was very professional, thorough, and thoughtful. He went above-and-beyond for me, which ultimately made my purchase of their product(s) even more enjoyable and exiting. 10/10 on all fronts. Thanks Edward and the DJMH team!
Winni Schoeb
(Michigan) | April 18th, 2023
Awesome quality, great customer service and easy to install DIY. Super Happy and fun to listen to!! Ride safe!!!
Tom Atzert
(Mooresville, IN) | April 16th, 2023
Met the Jekyll and Hyde guys at 2023 Daytona Bike Week. All friendly, knowledgeable, and helpful. Bought the exhaust system (after returning home) at the show price, so thanks for that! They said it was a one-hour installation. I watched their YouTube which was very helpful. The installation took exactly one hour. No muss, no fuss. Excellent product! Looks great and sounds absolutely awesome! I've told many fellow bikers the Sportster S is a great bike that will be even better with a proper exhaust system and so true with the Jekyll and Hyde exhaust system installed!!!
Brian Joseph Brown
(Earth) | April 12th, 2023
Fit and Finish were perfection! Plug and play wiring was simple. Love the sound. The finish product looks like it came on the bike from the factory.
Allen
(Michigan) | March 30th, 2023
The ability to go from stock quiet to wide open is nice. No disturbing the neighborhood in the morning, but a wonderful sound rolling down the highway. The guys did a fantastic job putting the system on, leaving no detail unchecked, to even giving the bike a quick wax when done!. Look, fit and sound were better than expected! Thanks for making this system available at Daytona Bike week!
RGV CYCLES INDIAN BMW
(SAN JUAN TEXAS) | March 29th, 2023
GREAT CUSTOMER SERVICE AND GOOD PRODUCTS 100 PERCENT RECOMMEND FOR ANYONE TRYING TO UPGRADE
John
(Fl) | March 24th, 2023
In my 80+ years I have built 100's of houses and 1000's of projects including 2 automobiles and a motorcycle from pieces. This is absolutely the most beautifully engineered product I have ever seen. Well done!!!
DAVID P MILLER
(North Carolina) | January 7th, 2023
Fantastic Company!